SAMSUNG Galaxy Core Advance Design Story
Considerate for all
Why can't everyone enjoy easy and convenient mobile experience?
It's a simple, yet important question. Countless other questions derived from this fundamental question led to the universal design of the smartphone. Visually impaired employees who can become actual customers participated from the planning stage, and more than 200 test candidates took part in the usability test to provide as much accessibility as possible. The blueprint of what Samsung had envisioned in the first place, to have users access smartphones regardless of their age or disability, was completed through the Galaxy Core Advance.
How can users easily use the device even if it's their first time?

Enhanced Grip & Easy Mode

Could smartphones be easily controlled through touch?

Ergonomic Key

Could users sense their surroundings through the smartphone?

Ultrasonic Cover & Light Sensing

Could smartphones read documents for the user?

Optical Scan Stand

Could smartphones distinguish similar products from the other?

Voice Label
Galaxy Core Advance Design Story
Galaxy Core Advance offers equal possibilities for everyone
Some say that they have started to dream bigger goals through the Galaxy Core Advance, just like how smartphones have offered new possibilities for so many people. The ultimate goal of Samsung Design is to provide more meaningful lives through experiential values. Samsung will continue to innovate, to enhance accessibility so that less and less people become marginalized of the mobile experience.

SAMSUNG Galaxy Core Advance : [Audio is added in this video] (Copy) Suportive Solution Time to time, your eyes get too tired. Optical Scan Stand can assist you when having difficulty reading letters. An old man is using an Optical Scan Stand that is an accessory of Galaxy Core Advance. (Copy) Search for ways to hear and feel. Voice label notifies the label of an object once it's been tagged. Ultrasonic Cover alerts you with sounds and vibrations if there is an obstacle in front.. The man is using a Ultrasonic Cover that is an accessory of Galaxy Core Advance. (copy) GALAXY Core Advance offers equal possibilities for everyone.

The grip of hand-held devices is ever more important in designing a smartphone. The Galaxy Core Advance's cover is coated with a viscous varnish to enhance the grip.
When you first turn on your smartphone and all the application buttons on the first screen frustrate you, then just select Easy Mode. The Easy Mode UI offers simple layouts and big icons to help first time users navigate their way.

The Galaxy Core Advance starts from touch. It enables intuitive control through the buttons you feel with your fingers.
Braille is placed on the power button, and now, the cancel and menu buttons are also designed as hard keys. The most often used features such as the camera and voice recorder are controlled through the buttons on the side of the smartphone for easy access.

The Galaxy Core Advance has added a function that can read the user's surroundings as if there was a person next to you to guide you. The Ultrasonic Cover accessory uses ultrasonic wave sensors to alert the user of any obstacles within 2 meters
distance to enhance mobility.
The embedded Light Sensing application detects and informs of the direction and brightness of light. Users will notice whether the lights are on at home, and detect the location of windows. As such, the Galaxy Core Advance will help in brightening up your surroundings.

The Optical Scan Stand was designed to read documents and mail of A4 and US letterhead sizes. Place the A4 size documents below a stand with a smartphone placed on top, and scanning begins as you press "scan." Once you listen to the voice of the Core Advance as it reads down your documents, you will be able to get through those files you once put aside that were hard to read.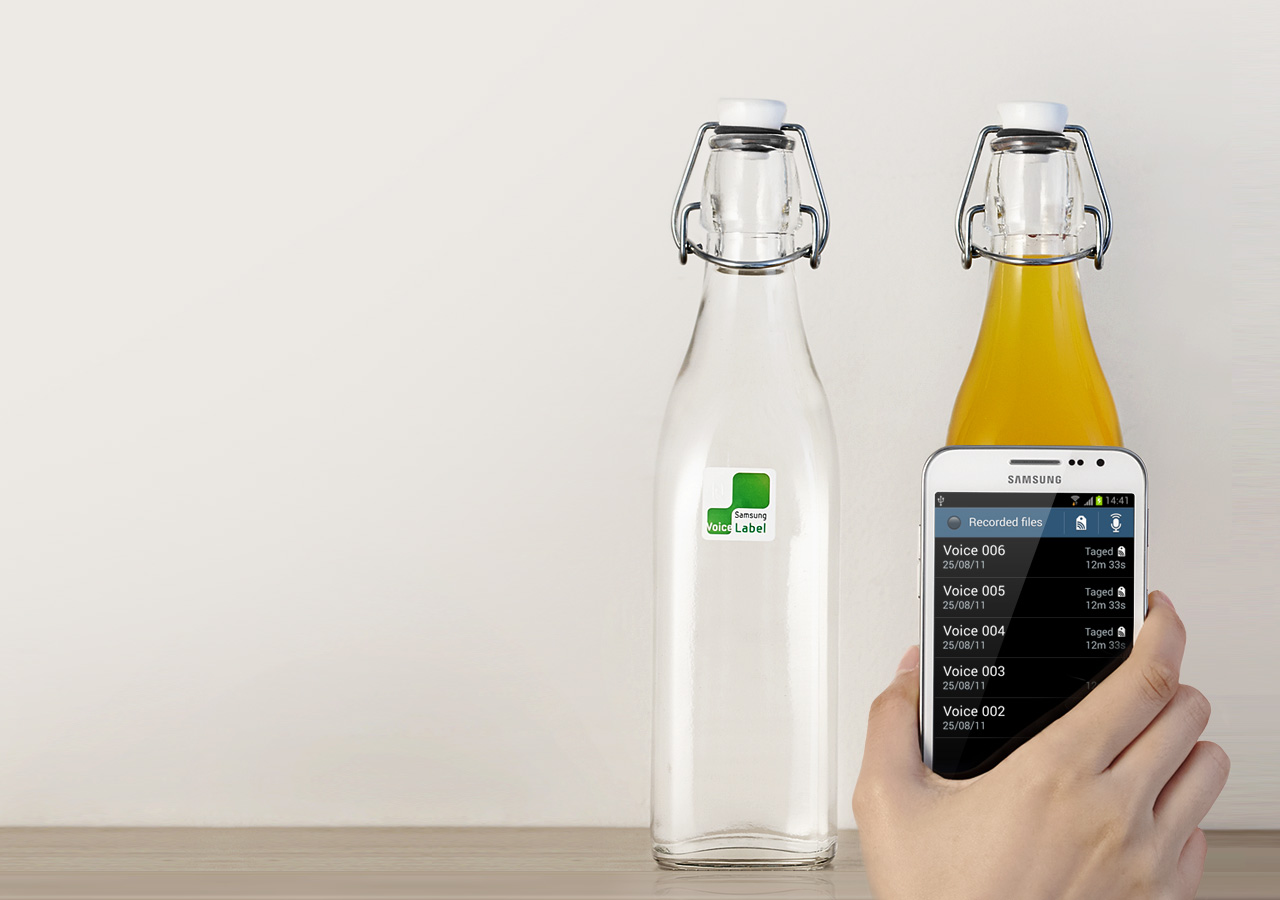 Those similar objects that were difficult to set apart – such as beverages, pills in similar bottles, and even white and blue shirts can all be distinguished through the voice label.
Register those objects onto the voice label, and the Galaxy Core Advance will recognize and inform you of your things by using NFC technology.